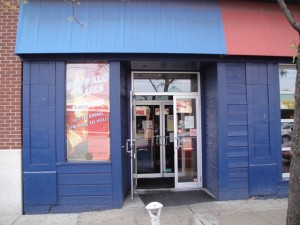 Four times a year or so, I get a hankering' for some hot wings. I asked around, and more than a few people suggested that I try Buffalo Blues in Shadyside. So off I went with a few family members, and my gal.
When you walk into Buffalo Blues, you'll notice a few flat-screen televisions, and a large bar. Past the entry way, there's a small dining room, and behind that, another large room- probably enough seating to accommodate 100 people comfortably. The large wooden planked walls are ornamented with various beer signs and other typical bar-type memorabilia. I was mostly interested in the faint smell of hot oil cooking- that meant something was being deep-fried!
Four of us took a seat at a booth, and a waitress appeared almost instantaneously to take our drink orders. Our menus were placed in front of us, and it was then that I noticed the layer of sticky goo on the table. I didn't say anything to my fellow diners, but instead excused myself to wash up in the bathroom. Well, things just got worse from there. The bathroom was equally contaminated with towels on the floor, graffiti on the walls, and worst of all, a foul stench. I washed my hands hurriedly, and made my way back to the table trying not to touch anything on my way.
When I got back to the table, we placed an order for a dozen wings- half with regular hot sauce, and the other half with barbecue. We were going to look over the menu for a few minutes while we waited for our wings to arrive. Our server swung by, and dropped off our wrapped utensils. The silverware she had given us was filthy. Now, I don't mean simply dirty; there were chunks of food on the forks and knives. I asked for a clean pair, and she returned with yet another soiled set. Gross.
Our wings arrived with a few dinner salads and we dug in (after self-cleaning our dinnerware with water and napkins). The salads were excellent and consisted of mixed greens, bleu cheese, onion, and bleu cheese dressing. The wings were also good; they were crisp, flavorful, and not over-done.
We ordered a few burgers and a pulled-pork sandwich for our entrees. The burgers were tasty, but were an odd grey color… I couldn't tell if they had been broiled, grilled, or cooked on a flat-top. The pulled pork was soft, and had a nice smoky flavor. All of our entrees came with homemade chips which were delicious.
All of our meals averaged approximately $10.00 per plate. The food was good, but I don't think I would return to Buffalo Blues considering how un-sanitary it was.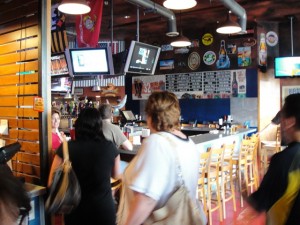 Buffalo Blues
(412) 362-5837
Shadyside
216 S Highland Ave
Pittsburgh, PA
15206