Dunning's Grill, Pittsburgh, PA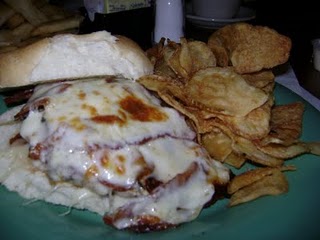 French Fries in a salad?  Yeah, you heard me…fries and greens.  Shortly after I moved to Pittsburgh, I ordered a grilled chicken salad, and it came with gobs of cheese and French fries.  It seemed odd to me, I mean, don't the fries cancel out the health benefits of the mixed greens?  Well, I'm not sure, but it sure tastes good- especially with extra ranch dressing.  One such restaurant that specializes in the French fry-salad combo is Dunning's in Regent Square.  It's a family-friendly restaurant that has been around for the past 20 years.  Dunning's food is straightforward; no complicated sauces, expensive cuts of veal, or white tablecloths.  What they do have is good burgers, grilled chicken dishes and salads with French fries.
Dunnings Grill is located at 100 South Braddock Avenue.  The restaurant seats approximately 65 people, and can accommodate 30 to 40 people at the bar.  The bar offers a nice variety of local and imported beers, as well as wines by the glass, and mixed drinks.  The beer glasses are always frosted, and the mixed drinks are far from skimpy.  Make sure to ask for Roger if you're ordering a drink- he makes the best martini around.
The décor at Dunning's Grill can be described as traditional, with its hard wood floors and tin ceiling.  The wait staff is friendly, and helpful.  The service overall has been good, but there have been a few times where we have waited close to an hour for our food.  Strangely enough, this usually happens when restaurants are empty.  If you're a cook doing prep in the kitchen you always get the food out first, then get back to prep.
Soups are a high point at Dunning's.  Try the French onion soup; it has sautéed sweet onions, flavorful broth, and gooey melted provolone cheese.  There are numerous appetizers to choose from:  Potato Skins ($6.75, half orders are available for $4.50), Skins McNair ($6.75 with chili and cheese), Fried Zucchini ($6.75), Dunning's Wings ($9.95), fried Provolone, ($6.75), and perhaps the best appetizer, Dunning's Homemade Seasoned Chips ($3.950.  We usually get the homemade chips with ranch dressing for dipping).
"Most salads are served over French fries with shredded cheese."  That's what the menu reads above the "salads" section, and its music to my ears!  You can choose the Grilled Chicken Salad ($9.50), Cajun Chicken ($9.95), or Buffalo Chicken with hot sauce and crumbled blue cheese ($10.95).  Other salads include a Heart-Smart Chicken Salad, Grilled Steak, Chef, and Tuna Salad.  If you're going to visit Dunning's for dinner, I recommend a burger; they're big, char-grilled, and delicious.   Also available are Fish Sandwiches, Tuna Melts, and Hot Turkey Bacon and Swiss, and Steak Wraps.  Dinner entrees include, a New York Strip Steak ($18.95), New England Scrod ($11.95), Lemon Sole ($11.95), Lemon Chicken, Lemon Basil Chicken over Pasta ($11.95), and Eggplant and Chicken Parmesan ($11.95, and $10.95).  All entrees are served with your choice of soup or salad, and a side dish (be sure to try the homemade cole slaw).  Evening specials are also offered.
Dunning's is a family restaurant with a very friendly and inviting atmosphere.  The casual ambiance makes it a good selection for an intimate dinner for two, or a casual dinner with friends and family.
Dunning's Grill 1100 South Braddock Avenue Pittsburgh, PA 15218-1258 (412) 243-3900