D's Six Pax and Dogz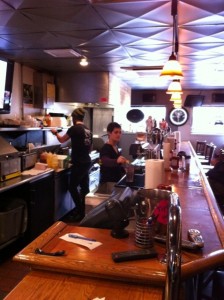 D's Six Pax and Dogz
Besides being an incredibly hip place to live, Regent Square has a myriad of small pubs, stores, and restaurants to explore. If you find yourself on Braddock Avenue, stop into Dunning's for one of Roger's famous gin or vodka martinis; no one makes them better. Murphy's Tap Room has a wide variety of beers on tap, and Jay can pour you the perfect Guinness; there is an art to it you know! Debby will be happy to make you one of her famous long-island iced teas… just make sure you have a designated driver to get you home afterwards. A few steps across the street you can grab a stack of buttermilk pancakes (what a recipe!) at the Square Café; light and fluffy- they'll get your morning started off right.
Besides having an abundance of bottled beers to choose from, D's also has a nice selection of local beers on tap.
Prior to opening D's, Dino DeFlavio (the owner of McBroom's beer distributor) supplied the local taverns and bars in the area with his product. Besides carrying the standard domestic selections, Dino decided to branch out and sell more sophisticated micro brews, as well as an increased variety of imported selections. Consumers were interested in these new beers, but didn't want to purchase a whole case without being able to sample a smaller amount.
"I approached all of the bars in the area, and asked them to try selling some of my less-known imported selections, but they weren't interested," Dino explained.
"That way the consumers could sample the beers, the local pub owners would make money on the individual sales, and ultimately, the patrons could decide which cases they would like to buy; it would have been a win-win."
Dino eventually opened D's Six Pack and Dogz, and began introducing the community to more refined, less known beers, brewed in small batches. Along with the bottled selections, patrons had a wide variety of beers on tap to choose from, most of which were produced from local, privately owned breweries. The response from the public was overwhelming, and soon people were coming to D's from other parts of town so that they could experience the beers. In addition to the great selection of brews, hungry customers could also munch on a grilled hot dog, cheese-steak sandwich, and french fries. D's became so popular, that Dino eventually bought the dry cleaners next door and expanded his business.
"I wanted to add additional seating for people who wanted to come and have dinner; it was important to me that people could come with their children and enjoy a meal in a family-friendly atmosphere."
The walls of the newly renovated side are adorned with hand-painted pictures of famous people, landscapes, and other interesting subjects. The detail in the paintings is impressive, and the extent of the complexity is mind-boggling. If you haven't seen the painted murals, it's worth stopping in for a look.
There's a large glass garage door on the façade of D's that can be opened in the summer, exposing diners to the rustling and bustling on Braddock Avenue. From the street, diners can be seen sitting at their high tops enjoying a cool draft on a hot summer's night; it seems as if Dino thought of everything when considering his diners. In addition to increasing the square footage, Dino also expanded the menu offering different types of sandwiches, homemade pizza, and garden-fresh salads.
Dino DeFlavio started with McBrooms Beer Distributor, and six employees. Over a short amount of time (and now with over 35 employees) he has parlayed the success of his beer distributor into many other successful ventures in the area, including The Loft (an up-scale bar above D's), another D's location in Monroeville, and DeFlavio's Pizza. Dino definitely has the golden touch when it comes to pursuing new enterprises, and possesses the uncanny ability to anticipate the market, and his customer's needs.
Stay tuned… rumor has it Dino has a few more surprises up his sleeve.
Happy Cooking!
Chef Chuck Kerber
chuck@cooksandeats.com