Gateway Grill, Monroeville, PA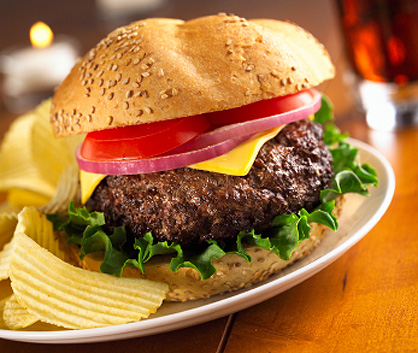 Gateway Grill, Monroeville, PA
There's a great rib, burger, and pizza place in Monroeville, PA, and it goes by the name of Gateway Grill.  It's not on the main strip, or in the mall; it's tucked away on a small road next to a Dairy Queen, and the parking lot is always packed.  The first time I ordered take-out from Gateway Grill I was dumfounded.  I had never been there before, and wasn't prepared for what I was about to see.  From the front, the restaurant is unassuming; nothing decorative on the outside, just the name, and a few beer signs.  Once inside, things are different.  On this particular evening (Thursday night) every booth and table was taken.  There was even a line at the register with eager patrons waiting to pick up their to-go food.  The kitchen is open, so you can see what's happening.  There's a grill with smoking burgers and ribs, and a huge pizza oven loaded with pies.  The attendees are mostly teenagers with a few older managers running about.  The help is extremely outgoing and helpful; always serving with a smile and a thank you.  Being as busy as it was, I was surprised with the efficiency and ease the busy restaurant was operating.  As I said before, I didn't eat at Gateway Grill- I took my food to go.
Burgers and pizza- that's what I brought home.  Our pie was huge; a 20" large ($14.75, $2.95 a topping) with pepperoni and extra cheese.  If you don't want a large, you can get a mini, small, or medium.  Our pizza was plenty big for four of us.  You can also get oven-baked hoagies, and calzones.  Because we are gluttons, we decided to try the burgers too.  The eight (8 oz.) burgers come with lettuce, tomatoes, pickles, onions and fresh cut French fries or homemade cole-slaw.  The pizza was great.  The crust was thin and chewy, and the sauce was sweet, not spicy.  The cheese had a bite to it; maybe a strong provolone or mozzarella, I couldn't be sure.  The slices of pizza were huge, and we sure had fun eating them.  The burgers were char-grilled (much better than frying of course) and were also tasty.  The patties were large, and the meat was lean.  The French fries were probably good at some point, but lost their crispiness on the way home from being enclosed in a plastic container.  The Gateway Grill also offers the "Mighty Mac Burger." ($10.95)  Let me explain…that's 16 ounces of char-grilled beef for the hungriest of people.
The Gateway Grill also has a myriad of appetizers; wings, bread sticks, wings, cheddar poppers, cream cheese poppers, fried provolone, nachos, fried mushrooms and onion rings just to name a few.  If you're looking for some cold brew or wine, they have that too.
Although I have never eaten-in, it sure looks like a fun place to be, especially on the weekends.  If you like you beer cold, your burgers big, and your pizza cheesy, you're going to be happy at Gateway Grill.
Gateway Grill gatewaygrill.net 4251 Northern Pike
Monroeville, PA 15146-2753
(412) 372-2977